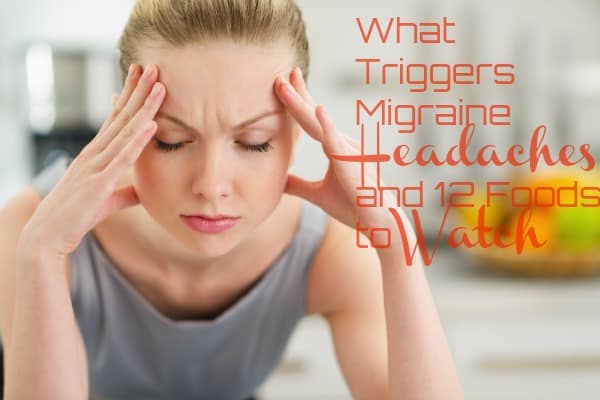 What are Migraine headaches? Why do some people suffer differently and more frequently than others?
Until I learned what triggers migraine headaches I was at a loss. I never understood how one day I could be fine, eat the same foods, but then the next day be in such terrible pain. I didn't want to get out of bed. What was I missing?
I began searching for knowledge on this topic that plagues so many on a daily basis. I read a book about migraines by neurologist Dr. David Buchholz called, Heal Your Headaches, the 1-2-3 program for taking charge of your pain. He gives practical advice on how to reduce headache triggers and raise your headache threshold. Dr. Bucchholz's book helped me tremendously to reduce my headache frequency and here are some highlights that you may find helpful.
What Triggers Migraine Headaches
Barometric pressure and weather changes.
Triggered with a storm approaching i.e. snow or rain. Heat and humidity, high altitude and air travel are also apart of this group.
Hormonal fluctuations.
Includes pregnancy, menopause or menstrual cycle
Sensory Stimuli.
Perfumes, tobacco smoke, cleaning products or bright lights
Physical exertion.
Bending over, aerobic exercise, weight lifting, dehydration and intercourse
Sleep deprivation
Recommended to get at least 7-8 hours or more of sleep each night.
Stress, depression, tension, anxiety or worry
Reduce your exposure to certain stressors if possible. Try to recognize situations that create stress and remove them if possible. Work on relationships and learn to take care of yourself. Everyone needs some "me" time.
Migraine Triggers vs. Migraine Threshold
What is the importance of migraine triggers and your migraine threshold? Triggers are factors that vary from person to person. Some are unavoidable, as listed above and others are dietary related. A threshold is different. Your headache/migraine threshold is something that is largely genetically determined. You may have a high threshold or a low threshold. Lower thresholds mean that you are more sensitive to factors that contribute to headaches. If you have a high threshold you are less likely to suffer with a headache as quickly despite the obvious set of triggers present.
Picture a glass of water filled with 1/4 cup of water and imagine that this is reflective of a low threshold migraine trigger. Now picture a glass of water filled up to the top and consider this a high threshold.
Low threshold -(water near the bottom of the glass), it does not take that long for triggers to activate a headache.
Higher threshold -(water near the top of the glass) (dietary or unavoidable), takes a little longer for you to get a headache/migraine. Dr. Buccholz says that "if the sum of your triggers exceeds your threshold, migraine becomes activated and you will have symptoms."
Bottom Line
Quite a simple concept to understand for such a complex problem. See, if you are having a good day, you can eat a lot of chocolate and drink a glass a wine without having any symptoms. Add a few more triggers to this equation like, stress and lack of sleep or changes in barometric pressure, the next piece of chocolate you eat will be the trigger that ignites the migraine. This happens because you have reached your threshold level. Make sense?
Dr. Buchholz goes on to say, "the key to controlling your headaches and other migraine symptoms is simple: Keep your trigger level below your threshold."
12 Types of Foods that trigger Migraine Headaches
Caffeine
coffee, tea and cola (caffeine is among the most potent dietary triggers)
Chocolate
Carob is questionable
Monosodium Glutamate
soups, bouillons, seasoned salt, gravies, ready-to-eat meals, anything processed,salty snacks, whey protein, gelatin, yeast extract
Processed meats and fish
aged, canned, marinated, smoked, preserved with nitrates, beef jerky, bacon, anchovies, sausage
Cheese and other dairy products
(tyramine is the culprit) pizza, yogurt, sour cream, buttermilk and aged cheeses. Cottage cheese, ricotta and cream cheese are allowed
Nuts
Avoid all, Seeds are allowed
Alcohol and vinegar
Especially red wine. Vodka is best tolerated and clear vinegar is allowable.Don't overdo condiments (ketchup, mustard, and mayonnaise) made with vinegar
Certain fruits and juices
Citrus fruits ( oranges, grapefruits, lemons, limes, tangerines, clementines and pineapples) and their juices, bananas. Avoid raisins, raspberries, red plums, papayas, passion fruit, figs, dates and avocados
Certain vegetables, especially onions
Sauerkraut, pea pods, certain beans (broad Italian, lima, fava, navy and lentils), Leeks, scallions, shallots, spring onions, also garlic
Fresh yeast-risen baked goods
Homemade or restaurant-baked breads, soft pretzels and coffee cake, bagels, doughnuts, pizza dough
Aspartame
Sweet-n-low, equal
Others
Tofu and soy milk and flour. Possibly tomatoes (and tomato-based sauces) mushrooms and perhaps soy products
What can you do for a Migraine Headache
There are lifestyle choices that can help control your headaches. Dr. Buchholz says, "regularity is key: You should sleep, eat and exercise on a regular basis. Get enough sleep each night." Skipping meals may also lead to headaches.
Eliminate "Quick Fixes"
Ok, this next point may cause you to think that I am crazy. But, in order to help prevent migraine headaches, you first must eliminate the single biggest problem known as quick fixes.
What are quick fixes you might ask. These are the drugs that cause the rebound headaches which are the real culprits.Taking a quick fix relieves your headache for the moment. As the quick fix wears off, your headache tendency increases. This creates the vicious cycle of your headaches thus promoting a headache frequency and severity. Here are some quick fixes that cause rebound.
Avoid these Quick-Fixes
Caffeine-containing analgesics (Excedrin, Anacin, B.C. Headache powder, Fiorinal)
Butalbital compounds (Fiorinal, Fioricet, Esgic Plus, Phrenilin and others)
Isometheptene compounds (Duradrin and others, Midrin)
Decongestants (Sudafed, Tylenol sinus, Dristan, Afrin, Entex LA and many others)
Ergotamines (Ergomar, Migranal and Wigraine)
Opioids and related drugs ( Tylenol with codeine, percocet, Darvocet, Oxycontin, Ultram and many others)
Over time, some of these drugs foster resistance and may not work as well in providing relief. Please note, caffeine promotes rebound. The saving grace is, if you have infrequent headaches and use a drug such as Excedrin infrequently-no more than 2 days per month-no problem. If you use them more frequently, this will become a problem.
Dr. Buchholz stresses that rebound headaches should be avoided by limiting the use of rebound-causing quick fixes to two days per month.
Do not Be a Rebound user
It's not too late. Clearing your system and ceasing quick fixes will allow your body to respond favorably to preventative treatments and diet adjustments that can be managed.
Try these Acute Treatments of Mild-to Moderate Headache
Acetaminophen (without caffeine)- up to 1,000 mg every 4 hours
Aspirin ( without caffeine)- up to 1,000 mg every 4 hours
Ibuprofen- 200 to 800 mg every 4 to 6 hours
Naproxen Sodium- 220 to 660 mg every 6 to 8 hours
The medications listed above are usually safe and work because they are anti-inflammatories that block activation of prostaglandins (inflammation generators). They do not cause rebound but do have some potential side-effects that you should be mindful of.
3 Steps to Healing your Headaches

.
The first, avoiding quick fixes such as painkillers but rather approach migraines from a preventative state. Quick fixes sometimes only make matters worse because of the crippling complication known as rebound headaches.
Secondly, reduce your headache triggers and learn to eliminate the foods that send you over the edge.
Thirdly, raise your headache threshold and speak to your doctor to determine if prescription medication is needed.
When headaches occur, it may be helpful to eat something, relax, lie down in a dark or quiet room or try to sleep. Ice, heat or gentle massage or gentle pressure on the area may be helpful. In addition, neck stretches may also provide relief. Find what works for you.
If you'd like, please share some methods that you have found helpful that relieve your migraine headaches. I hope this helped!