5 Quick and Easy Weeknight Dinner Ideas
Don't you wish that dinner could cook itself? Well here are 5 quick and easy weeknight dinner ideas for the entire family that anyone can prepare and everyone loves.
Here is a one-pot quick and easy weeknight dinner idea
Ground Turkey with Sautéed Vegetables 
1 lb Ground Turkey
2 Yellow Squash (sliced)
1 Zucchini (sliced)
½ Red Pepper (finely diced)
1 cup of Chicken Broth
Directions: Cook ground turkey meat in a large skillet over medium heat. Season with garlic, oregano, salt and pepper (as desired). Drain. Cut the ends of the squash and slice into cubes. Add in red pepper and chicken broth. Cook vegetables until tender. Serve over brown rice noodles or brown rice if desired.
If you have leftovers, add some spaghetti sauce and BAM, meal number two.
Old Bay Salmon with Garlic Spinach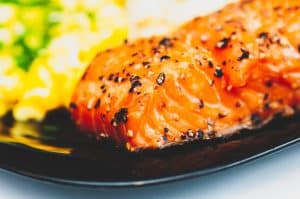 4 Salmon filets (rinsed with skin on or off)
6 cups of raw Spinach (a large container of spinach cooks down A LOT, use the whole container if you'd like more)
4 cloves of fresh garlic (minced)
2 tsp of Old Bay seasoning
1 Tbsp Olive Oil
Directions: Season both sides of filets with old bay and freshly ground black pepper, place in greased 13 x 9 inch glass pan at 400 degrees. Cook approximately 20-25 minutes depending on the thickness of the filets. Move filets to a separate dish. Using a medium to large sized skillet, add olive oil and bring to medium heat. Toss in spinach, and garlic. Let cook for 5 minutes, or until wilted. Serve salmon over a bed of sautéed spinach.
Shrimp Stir-Fry
1 lb Frozen Shrimp
1 Small to medium head of Fresh Broccoli (florets only)
4 Cloves of fresh Garlic (minced)
1 Tbsp Olive Oil
1 Tbsp Soy Sauce
2 Tsp Fresh squeezed lemon juice
Directions: Thaw and peel shrimp. Season with black pepper. In a medium sized wok (or skillet) saute shrimp with olive oil on medium heat. Let shrimp cook for approximately 6-8 minutes, they will be light orange. Toss in Broccoli florets and continue stirring. Add in minced garlic and soy sauce. Mix all ingredients together thoroughly. Broccoli should be tender, yet crunchy when finished. Add fresh lemon juice and cayenne pepper to taste. Serve over ½ cup of cooked brown rice.
Super fast Chili con Chicken 
2 boneless, skinless chicken breast (diced into cubes)
1 can of rinsed black beans or pinto beans
1 Tbsp of chili powder
2 tsp of cumin
15-ounce can of diced tomatoes
1 Large sized sweet potato (peeled and diced)
1 1/2 Tbsp Olive oil
Directions: Peel and dice the sweet potato and drizzle with olive oil and chili powder. Place in a glass 8×8 pan and put in the oven for 20 minutes, uncovered, at 450 degrees. Season chicken with salt and pepper as desired, don't overdo it. 😉 In a medium skillet pan-fry chicken breast over medium heat. Add in beans, cumin and tomatoes. After sweet potatoes are done, add them to the skillet with the chicken. Simmer for 10 minutes.
Shrimp Tacos

 
½ lb Shrimp (fresh or frozen)
1 can of black beans (rinsed)
½ bag of frozen corn
2 Tbsp of Taco Sauce
1 Avocado
2 Tbsp of Shredded Cheese
Hard or soft taco shells (your choice)
1 cup of Shredded lettuce (optional for topping)
2 Tbsp of fresh Cilantro
1 tsp olive oil
2 tsp of Taco Seasoning
Directions: In a medium skillet, add black beans, corn and taco sauce. Stir until heated. Place beans and corn in a bowl and set aside. In the same skillet, add olive oil and saute shrimp over medium heat. Add in taco seasoning and coat shrimp evenly. Cook shrimp for approximately 6-8 minutes (until shrimp turn orange). Add in cilantro, stir and remove from heat.
To build the taco: Take a hard shell, place corn and bean mixture in first, add shrimp, cheese, and lettuce. Top with more taco sauce if desired and serve with a side of fresh avocado.
How to Start Cooking at Home
Why is it important to adopt the idea of cooking healthy meals routinely? Growing up, most of us can count the very few times we ate carryout. I know that in my household we rarely ever had takeout. Our meals were balanced, even, some were straight from the garden. Our parents just knew how to do that, it was a different time.
These days, we are bombarded with all sorts of food options. Now, the foods we eat are loaded with preservatives and additives. There are more sugars, fats and salts in our foods to cater to tastebuds. This, mind you, is contributing to the all-time high obesity/type 2 Diabetes epidemic.
The sad fact is that boxed foods and packaged foods have taken over our dinner tables. We have an uphill battle to regain control.  Sadly, children prefer packaged macaroni cheese over homemade versions.
Learn to be patient as you introduce more fresh foods and home-cooked meals.
What 5 Ingredients ALWAYS make foods taste delicious
Add these seasonings to spruce up weeknight dinner ideas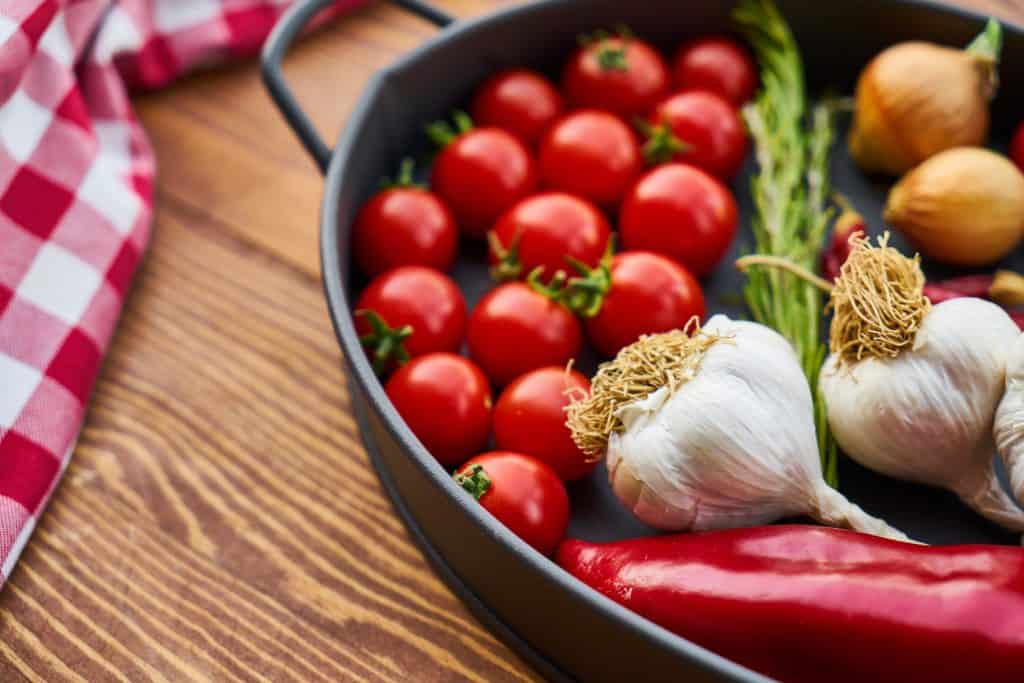 Garlic (fresh cloves only)
Onions (scallions, white or yellow)
Green peppers (or any color pepper)
Chili powder
Black Pepper (or crushed red pepper flakes)
How to Eat Healthy Meals

 
Plan Weeknight Dinners Ahead
Roasting a chicken? Have two meal ideas for leftovers. Here's what I mean.
Day one: Baked Chicken with mashed cauliflower and a side salad.
Day two: Shredded chicken quesadillas or chicken tacos. Easy and delicious.
Keep It Simple
Healthy eating does not require you to spend hours in the kitchen. Few ingredients can be used to make foods taste good. The goal is to spend more time relaxing, less time cooking? I would.
Foods high in fiber and rich in good protein sources are all it takes to feel completely satisfied.
For a delicious salad any day of the week, add a protein (salmon, chicken, or tuna) to a bed of mixed greens. Spinach, romaine lettuce and/or green leaf are good options. Add sliced cucumbers, tomatoes, olives, carrots, avocado and feta cheese for a filling meal. To make the perfect homemade dressing, use red wine vinegar, olive oil and a splash of salt and pepper.
How do I Get Better at Cooking?
Not a gourmet cook yet? It's ok. Do not be hard on yourself.
Make up your mind and set goals. Prepare meals at home 4 days per week. Look around for inspiration for your weeknight dinner ideas and get started.
Start with a realistic goal that you can achieve. If you are currently eating out 6 days out of the week, decide to cook your meals 3 days and eat out for only 4 to start. Or, cook your meals 4 days a week and only eat out the other 3 days.
 Be realistic.
Grab a new cookbook and let's get cookin'.
What are some barriers you face with trying to cook dinners weekly? Do you have trouble planning, cooking or both? Tell me how you plan to make a few changes to your meal plan.
Need more, check out this post on meal planning