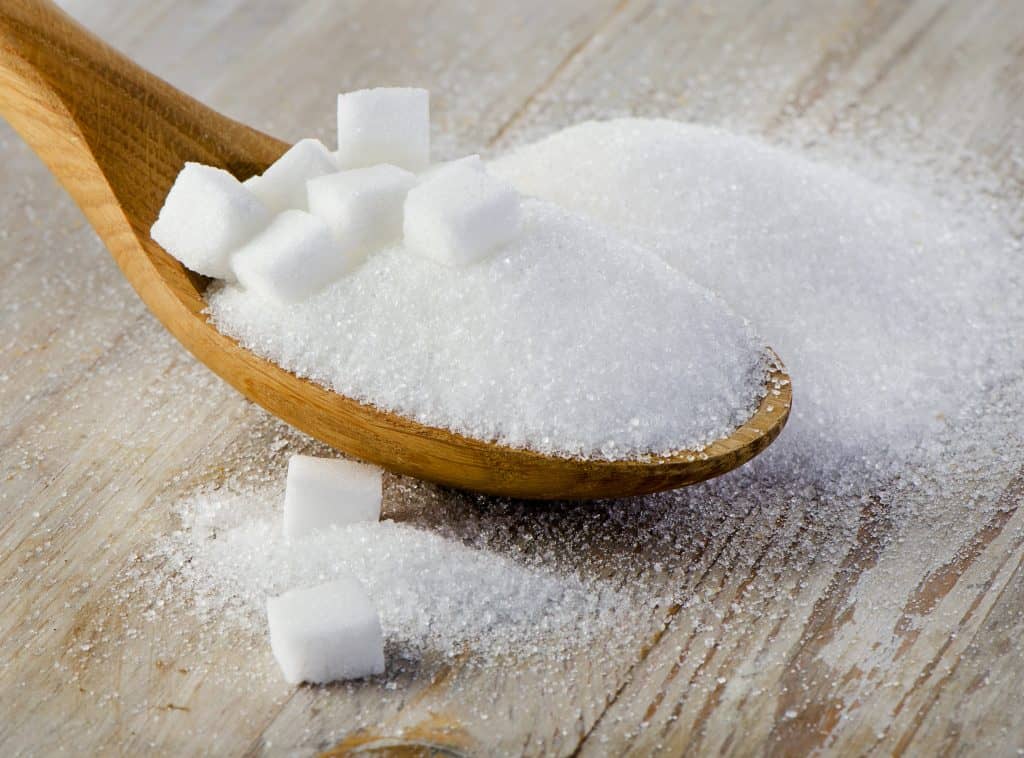 How to Stop Eating So Much Sugar
Why do we love this granulated, white, sweet stuff so much? How do we learn to stop eating so much sugar? Would it shock you to know that we are hard-wired to crave sweet foods?
Yes, when we eat something sweet, we send a message of pleasure to the brain. Many of us don't realize how much sugar we actually consume. You may even be shocked to realize that you could be addicted to sugar and/or the pleasure it brings.
But wait! High-fructose corn syrup (HFCS) is liquid, cheap, and is what has been directly pumped into our processed foods and drinks.
Could you be consuming sugar and not even realize it? No wonder you can't stop eating so much sugar.
Even foods that aren't "sweet" have the potential to contain high-fructose corn syrup.
Did you know that, according to the USDA, the average American consumes more than 40 pounds of high-fructose corn syrup per year?
There was a time when I use to consume coffee with cream and sugar. In all actuality, I used to consume cream and sugar with a little coffee.
Raise your hand if you can relate.
So, I did a little experiment one day that made a noticeable difference in how I felt.
How could I cut back on the amount of sugar in my diet?
Well, I stopped putting cream and sugar in my coffee. YUCK! I was drinking black coffee just because I knew it was a better option and I haven't looked back since.
Honestly, I enjoy organic coffee much better now, black, then I ever did with cream and sugar. Surprising, but true.
And my cravings and desire for sugary foods has decreased. Imagine if you did the same. You just might be able to stop eating so much sugar too.
How to stop craving sugar?
Stress can cause your body to crave carbohydrates. If your glucose is low, your desire to eat goes up. Your blood sugar levels rise so that you can feel happier.
When you are stressed, the brain tells the hypothalamus to prepare for extra cortisol releases. Increased levels of cortisol lead to increased eating and/or overeating.
You will have a temporary feeling of well-being but this becomes a vicious cycle and your belly fat increases.
Fiber promotes satiety. Consuming high-fiber may help you to eat less at your next meal. Increasing fiber can balance those hormonal swings that can create intense cravings and overeating.
Here are some options:
Lentils, pinto beans, kidney beans, chick peas, brown rice, quinoa, rice cakes, whole-grain pasta
Stop drinking your calories, seriously. According to JJ Virgin, author of the 'Sugar Impact', swapping your sugar sweet beverages for a healthier alternative is the way to go.
Here are a few suggestions: Swap your…for…
Carrot juice…green juice
Energy drinks…green tea
Sweet tea…Brewed tea with lemon
Sweet wine…Pinot Noir
Vitamin Water…Hint Water
Regular/diet soda…sparkling water
Recognize sugars/sweeteners
Sugars hide in salad dressings, bread, boxed dinners, sauces and condiments, nutrition bars, coffee creamer, energy drinks and sports drinks, cereals, canned fruits and frozen pizza.
Get your taste buds accustomed to consuming fluids that are not sweet. This includes coffee drinks that contain flavored syrup and sweet toppings.
Have fresh fruit for dessert instead of candy, cake, cookies, pies or other sweets.
Try eating sweet potatoes, green vegetables and fresh snap peas at certain meals or as snacks.
Eat less processed foods that contain added sugars. This also means choosing your fast-food options more wisely.
If the first few ingredients are sugar, high-fructose corn syrup or a derivative of sugar then you should be aware and consume with caution.
Also, know the names of sugars. Here are a few examples:
Barley malt, beet sugar, brown sugar, cane-juice, fruit juice concentrate, maltol, fructose, corn syrup, grape sugar, glucose solids, malt syrup, lactose, date sugar, dextrose, fruit juice, carob syrup, caramel, cane sugar, honey, invert sugar, molasses, raw sugar, sucrose, sorbitol, sorghum syrup, corn syrup solids.
Is sugar in fruit bad?
No.
The sugar in fruit is called fructose. This sugar source is found naturally in fruits and pales in comparison to the sugar found in processed foods.
Fructose in fruit serves as a "signal" for sweetness, energy, and nutrition. When we consume foods that are high in sugar from processed and refined foods, we get the sweet taste and the calories, but we don't get the energy and nutrition.
What snacks are low in sugar?
There are some fruits that, no matter what, should be consumed by everyone. I am so tired of people saying that "fruit has sugar, so I can't eat it."
You should not deprive yourself of the goodness that your body needs to help it heal and be well.
Fruit has fiber. Fiber helps you to feel fuller, longer and helps to maintain blood sugar levels.
Not to mention, it keeps your gut bacteria happy for a strong immune system. So please, eat fruit. 1 cup contains the following:
Fresh strawberries: 3.3 grams of fiber and 8.1 grams of sugar
Raw raspberries: 8.0 grams of fiber, 5.4 grams of sugar
Blueberries: 3.6 grams of fiber, 14.7 grams of sugar
1 small peach has 1.9 grams of fiber, 10.9 grams of sugar
Almonds, walnuts and sunflower seeds are healthy options to snack on. Chia seeds are also powerful to add to foods and smoothies.
1 cup of almonds contain 17.4 grams of fiber and 5.6 grams of sugar
1 ounce of walnut halves contain 1.9 grams of fiber and .7 grams of sugar
1/4 cup of dry roasted sunflower seeds contain 3.9 grams of fiber and .9 grams of sugar
3.5 ounces of Chia seeds provide 34.4 grams of fiber and 0 grams of sugar
1 cup serving of the following fresh vegetables contains:
Cucumbers: .9 grams of fiber and 1.8 grams of sugar
Broccoli: 2.4 grams of fiber and 1.5 grams of sugar
Cauliflower: 2.5 grams of fiber and 2.4 grams of sugar
1 large stalk of celery contains 1.0 grams of fiber and 1.2 grams of sugar
Cherry tomatoes: 1.8 grams of fiber and 3.9 grams of sugar
Why do I always crave sweets?
Simple. It makes you happy. Secondly, sugar is in so many of the foods that we eat that our bodies are prone to say "give me more."
According to science, foods that are highly processed such as white bread, potatoes, and concentrated sugars, can actually make you hungrier.
These foods have been shown to alter brain activity in ways that make us crave them even more.
By reducing your intake of sugar, you will begin to avoid overeating it.
Does sugar make you fat?
Yes, it can contribute, among other things. Researchers have even gone so far as to believe that High-fructose corn syrup, all by itself, may play an important role in the obesity, diabetes and cardiovascular disease epidemic.
The good news is, it is only when sugars are refined, concentrated and consumed in big quantities, they become a problem.
Sugar-Sweetened Beverages do cause weight gain
Consumption of sugar-sweetened beverages are linked to weight gain. Research study shows that excessive fructose consumption, alone, or from HFCS has been linked to visceral adiposity. In case you are wondering what that is, it is abdominal fat.
Sugar-Sweetened beverages higher your risk of hypertension
One study found that those who reported eating or drinking at least 74 grams of fructose per day (~18 teaspoons) had a higher risk of hypertension. The high-fructose corn syrup raises uric acid levels that increase blood pressure.
Listen, I know we love sugar. But sugar is still sugar. It may be what is keeping you lethargic, overweight, bloated and unable to feel your best.
Perhaps it is time for a change.
Gradually decrease the number of processed foods that you eat.
If you are a women, aim for 25 grams of sugar or less per day, that is 6 teaspoons. If you are a male, aim for 37.5 grams or less per day, that is 9 teaspoons.
Pay attention to food labels that contain high-fructose corn syrup and/or have sugars listed in the first 3 ingredients.
And lastly, eat REAL, WHOLE FOODS and be patient. Your taste buds will be able to get used to a healthier diet. Try this quick-start 5 day Mediterranean diet. The best news of all is that you can rewire your brain to crave healthier foods and reap the benefits.
Was this post helpful? Where are your pitfalls when it comes to eating too much sugar? I'd love to hear from you.